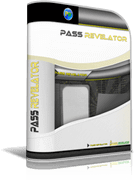 Minimum requirements:
Windows 10; 8; 7; Vista; XP; 2000
5Mb free, 256Mb RAM, 1Ghz
Compatible 32 Bits / 64 Bits

Works on multi accounts

Last update 01.09.2017

Free update

Compatible on any account

In English
FAQ
Hack Hotmail, Outlook and MSN email account
How to hack MSN, Hotmail or Outlook password?
PASS REVELATOR is the software password hacker that has been made to be perfectly easy to use for everyone. It has no time and use limits. Whenever you lost your HOTMAIL, MSN or OUTLOOK password account, PASS REVELATOR will get it back in minutes.
It's extremely difficult to get out a password that you don't remember unless you have PASS REVELATOR. Now even if you lost or forgot years ago your MSN, HOTMAIL or OUTLOOK password, our application will be able to hack it.
How to hack a MSN, Hotmail and Outlook account?
Even if our software is revolutionary, we made everything very simple for the end user.
Step 1 - Download PASS REVELATOR on your device. Follow the instruction until the software ask for the email account to recover.
Step 2 - PASS REVELATOR needs an email to work with in order to link the password you are looking for to the account. So type the email address and press ENTER.
Step 3 - Your password has been found and secured, now please save it in a text file to never forget it anymore.
Note: PASS REVELATOR is able to decode every password crypted in MD5, in AES with CBC mode, in PBKDF2 or in SHA.
The download of PASS REVELATOR is totally FREE.
Please click on "Download".


Hack Hotmail, MSN, Outlook account.
Today it is possible to hack or to get hacked with PASS REVELATOR. The only thing you have to know is that nothing can stop someone who wants to hack your MSN, Hotmail, Outlook account from an email! In less than 30 seconds, PASS REVELATOR will reveal your identity and the identity of the person you try to hack. You can spy everyone here. But it is very important that you know that you have to respect the laws of your country and you have to do that only on your account or the account of someone that gave you the right.
Use the software to hack all Outlook webmail accounts
The Hotmail Account application is made for those people who want to keep their things under control or for the ones who want to keep someone protected from outside dangers. For example a parent who wants to know what their kids are doing when they go out, with who they are hanging out, talking to, etc. Nowadays there are a lot of online crimes spread all over the social networks, messengers and other platforms. So this is a big reason why there are more suspects between people. Our tool will also help people who are in a relationship to know with who their partner is talking, if they are cheating on each other, and many other reasons. Do you suspect in anyone? Here is your chance! Download MSN Key and uncover your partner's hidden secrets, reveal their messages and see the stuff that you always wanted to know! Phone spying software has been launched for years but it is only available on smartphones which can run phone spyware sufficiently. There are many free products offered on the internet. But if you want to install it on the target phone, you need to get a physical access. Sometimes, to enter in an Outlook account it is hard for you to get the phone in your hand.

Free solution to hack many Outlook webmails
We roll out updates to server daily as Hotmail fixes security loopholes very quickly. But we find new security loopholes to easily log in MSN accounts and provide this service to you for free. Use our system to go on as many Outlook profiles as you want before our system is available to paid members only. Monthly fee will be expensive but for a limited time it's completely FREE. With years of product development by outstanding and innovative minds, the application needed advanced programming together with complex algorithms to develop. It can incredibly take you less than two minutes to open MSN account depending on the password combination of the culprit. This is because each password in Outlook is encrypted with security protocols to keep the stealer away. But this restriction lifted all credit going to the web-based hacking application.

This is the Outlook login page
A MSN hacking method totally safe
If you don't know the email address used by the person to login to the Hotmail account but you know the Live Messenger page of that person, it means you know his Hotmail ID. Look at the URL of his Outlook profile page, you will find the ID. It is either a nick name chosen by the person, or a number with many digits. Or simply use a tool to find that number. Copy that and go to our site to crack the account, our system will then, at the end of the process, give you the email address along with the password so you can login to the email account. It also works on Android to log in loads emails. Quite a bit of people are certainly not really mindful of the disadvantages and pros that are associated with the assistance. Most people have already fallen victim of having their Hotmail account banned simply because they want to use another person webmail without authorization.
Google+
Google