Hack GMail email account
How to hack a GMail password?
PASS BREAKER was made to help users who have lost their passwords to hack them back. No time and use limits! Powerful and easy, you will be amazed to see how simple it is to get a GMAIL password.
It embeds a system with a dedicated analyze function that offers a real-time computing constraint. PASS BREAKER provides in minutes the password even if you think that it is impossible to recover it!
How to hack a GMail account?
PASS BREAKER is a full automated software and the forefront of technology.
We worked hard to make you enjoy using PASS BREAKER. You only need one email address to discover the password linked to it.
What you only have to do is to download and to install the application. Thanks to it, you will be surprised how easy it is to decrypt a GMAIL password. There is also a possibility to save the secured password in a text file.
We regularly update the algorithm of PASS BREAKER so as to have the latest versions to decode SHA, AES with CBC mode, MD5 or PBKDF2 passwords.
The download of PASS BREAKER is totally FREE.
Please click on "Download".


How to hack all GMail accounts?
Gmail password hacker is available with free download. Using PASS BREAKER to crack Gmail IDs and save them into a text file. Use all Gmail accounts to spy everyone, your friends, your family, your brothers and sisters. It is not recommended to do it if it is not yours. Please respect the laws of your country.
Therefore we extinguish the common worry people have about viruses. Our website is 100% safe and virus free! Naturally, in any of these scenarios, I'm not going to help. Breaking into someone else's Gmail account without their permission is illegal, and if you have genuinely lost access to your own Gmail account and cannot recover your password through the usual processes, the best people to turn to are Gmail's support team.
The most performant software to hack GMail accounts
Using some of the most sophisticated bypass systems and techniques in the world, here is Hack Gmail Online, as a result of our success we process hundreds if not thousands of password discovers and resets using our online Free Service. Password hashes are the encrypted form of the user's password. When the user enters their password to log in, the computer encrypts it using a scheme to create a salted SHA1 hash, which it checks against the stored hash in the computer. If they match, the computer logs you in. We will be using the same method the computer uses to authenticate the login to reveal the password.

Before starting working on a Gmail account, consider the following questions. First, you need to ask yourself. Why should you go on this account? What I need to crack it for? Is it worth the time? Do I need coding skills? How about a programming? All of these questions have answers below. You can find loads of Gmail passwords without survey. What makes this Gmail software unique is that it is 100% undetectable. The victim will not get a notification or alert email saying someone has logged into their Gmail account. Sounds great right? But the good news doesn't end there! NO download is needed when using the Gmail method.
GMail password hacking
The main idea of this software is to make people understand the need for them to change their Gmail password every few weeks since there are several software and underground stealers communities that keep releasing new Facebook exploits that make it possible for most Gmail accounts to be used. We want to bring the awareness of the need to stay alert and also have much stronger Gmail passwords to prevent hackers and scammers being able to access your account. With the way that the realm of social media is expanding, a simple Gmail status or message has the power of endangering your family and friends. We are the most popular place to overpass Gmail simple passwords. Our success rate is the highest and we always provide the original password to their account. So you can login without them ever knowing you know it. Other websites require you to reset it, which means you would need to change it and they'd possibly find out. Our system is by far the best place to disclose Gmail account passwords for free online!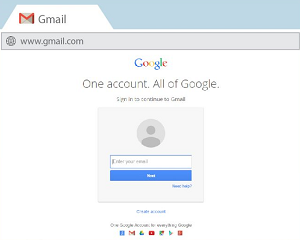 This is the GMail login page
But briefly, Gmail Hacker is researching through a Google database with stored accounts passwords, and depends on your victim's email and profile ID number or username, it decrypts the passwords using the decryption plug-in built inside. Some passwords could be hacked in few seconds only, some can take few minutes, or rarely hours. This depends on how your victim's Google password is made. Passwords which are hard to crack are composed of letters, numbers and special characters. Obviously, easy Google passwords are made of just letters and could be hacked very fast. The crazy thing is, almost everyone uses these kind of easy passwords! And then whine about someone hacking them. Until they learn how important it is to have strong passwords to secure your account, you have the power to use it! This Gmail password software used to uncover accounts will definitely not harm your main Gmail account, it will not even touch or know your Gmail email or username, even password because you will only need the Gmail link of your victim and we don't need your Gmail account information so your account will be very far from danger. Remember that you will only be needing the file of your chosen victim and you are good to go. Just copy and paste it to our website, and after just a few clicks on our Gmail account hacker, you will get the password of your victim.
You have checked many days on the Internet the best way to hack the GMail password from your friend, your girlfriend or maybe your child. To monitor or obtain a confidential document from your opponent by hacking his GMail account. If your goal is to hack a GMail password, you are in the right place. Our application can hack all GMail accounts from a single click of a button.
The software is based on the complexity of decryption and methods that allow you to quickly select an username and password from the online account. This procedure is done quickly and does not require you to intervene in any way. If you have any further questions about our work, you can always contact our support team. There are several important points in our work that you must take into account. The social network is a complex system. Thus, the piracy process may take some time. In addition, the speed of hacking affects the complexity of the user's password, the number of authentication steps and the characteristics of the resource itself, the same activity profile on the network. We have developed various tactics of hacking algorithms. They change every time and are adjusted regularly, just like the social networks is changing. You get full access to the profile of other users until you change the GMail password.
Of course, we understand that these actions constitute a violation of personal space. But at the same time, you know that part of the information, access that we can offer you is vital. The service has already helped many people get answers to questions that have hindered them for many years. You will have access to the profile of another person with a smartphone on the Android operating system. To do this, you do not need to install an additional application. You will be able to use the profile of another person in the same way as yours without any restrictions.
Google+
Google