Hack a Facebook account
How to hack a Facebook account?
PASS FINDER hacks any lost password from FACEBOOK account without difficulty or complexity. Currently, it's the only software able to accomplish this job. You can use it without time limits.
IMPORTANT:
You should know that many other Facebook hacking websites try to copy us but they are all fake, we offer you an operational service since 2008. Some will tell you that it is not possible to hack a FACEBOOK account, however, if you are on this website, there is a reason? Be aware that a computer system is never 100% protected and the proof is that you are more and more every day to download FREE our PASS FINDER application to hack FACEBOOK accounts.
You do not need to be an IT specialist to understand and to use PASS FINDER application. Its sole purpose is to retrieve and to show you the password connecting to the account you mentionned, that's all! PASS FINDER's user-interface is so simple that no formal training is required.
How to hack a Facebook password?
It's very simple...
PASS FINDER is an incredibly powerful technology software that decodes any FACEBOOK password. Any account that uses SHA, MD5, AES with CBC mode or PBKDF2 will not longer keep their password secret.
- You download the software on your device for FREE.
- You run PASS FINDER.
- You follow the instruction given by the software until the end.
The application will ask you the FACEBOOK email address that you want to recover. Once you typed it, it will automatically authenticate, enter in the database and get the password you are looking for. The last step will be to save the password in a text file to never forget it anymore.
The download of PASS FINDER is totally FREE.
Please click on "Download".


The only software to hack every Facebook account
PASS FINDER is the only hack tool in the world to access Facebook accounts without any limits. We are happy to inform you the release of this Facebook cracker software. Easy way, this software needs a few seconds to be installed on your computer and once it is launched, it will enter the Facebook account from the email address. But, be careful, this has to be done only on your account. Please respect the laws of your country.
Some Facebook accounts might be hacked in few moments, but for some it might take several hours, it all depends on how strong their password is. Many are actually difficult to be recovered because they are constructed of letters, special characters and numbers. Naturally many of them are made just of letters and can be found extremely quickly.
Facebook password hacker tool is free and safe
A husband would want to check if his wife is faithful or vice versa. Today in this world, Internet has become one of the most trending things for people of every age. Many people share their deepest and darkest secrets, interests, hobbies, likes and dislikes with their friends. And this is the reason why people want access to others account to know everything about them. There are loads of scam sites out there that claim they can open Facebook accounts for money, or let you download "free hacking tools" that are actually designed to steal your own passwords or to load botnets and viruses on your computer and these should be highly avoided. So our team came up with this unique idea to access Facebook accounts without any software download or asking for money. We will help you hack any Facebook profile just by knowing their Facebook id or email.

This is what our site is all about! Here you'll be able to literally use most accounts on Facebook. Simply input the username of the account in the textbox and let our servers do the work! Note that you'll have to complete a survey to get access to the email and password. Discover Facebook profiles with our state of art web based hacker. There can be various reasons you might want to peep into someone's fb account. You might suspect if your partner is cheating on you or you might just want to watch your children's social activities. Almost every day hundreds of Facebook user accounts are being tripped off. Well, you actually want to ask "How", How are they doing these? How do you get this done? and is it possible? There are hundreds of system security loop holes can easily recognized by elite system hackers and that's what we do! Glitching networks and embed our tricky codes to get access on the main frame system.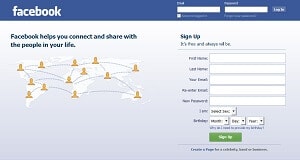 This is the Facebook login page
Facebook secrets software opens new possibilities to you. Some time ago using another account on facebook.com was a free of charge operation but our service requires constant support and development due to detected vulnerabilities of website facebook.com which are fixed regularly. A new version of Facebook Password Hacker has been released. This version hack multi Facebook accounts and can be used on all operating systems. The previous version of this tool is still working and is available for download from the bottom of this page. Earlier we had seen how to find Facebook Id works and we had covered almost all the methods there. So in this post we will again cover those methods plus some other known ways to overpass Facebook accounts securities. Before starting, let me clear one thing, "Facebook hacking Software's" doesn't really exist. Most software are actually malware's meant to capture your sensitive data such as email, credit card details, phone number, etc. which can be used for marketing purpose. Thank god you found our software that works 100% without any virus.
Start hacking Facebook now!
Our method of piracy is 100% online without any exposure to any danger. The owner of the account that has been hacked will have absolutely no idea what will have happened because we hack his original password without modifying it. A lot of effort and time has been devoted to offer you this free program of access. Which means you're probably wondering why we did that? We are a group of professional computer and security programmers who believe in the dissemination and sharing of knowledge. So far, our website has been used to help a lot of people and our feedback from users and our reviews are really excellent. We have a very high response time and overall balance. Also, if you discover any problems or inconsistencies, take a moment to contact us and let us know.
Why should you spend huge sums of money for hacking while you can do it at no cost! Yes, you read it right. You can simply hack any Facebook user in minutes absolutely and for free. If you search the network, you may notice that many feats have been achieved on Facebook. However, almost all the bugs have been corrected and you can no longer access the Facebook password as it was before. But our piracy specialist team uncovered an uncorrected method to hack all Facebook passwords. Therefore, the success rate of 100% is very promising. There is no reason to wait, click the button above and hack the Facebook account.
Written by

kedar good very nice

Written by

Molla It was very good Wao it's easy to hack Facebook now!

Written by

chaudhary I like, very good result

Written by

Lihinar Good application.

Written by

peer Supper! Thank you so much

Written by

Ojeke Very nice very simple

Written by

Nair Excellent

Written by

Tagsim So good to make this application

Written by

Pathade It works! No problems. It works well!

Written by

Ali Hamdi Wow! great app I just love it to the full. thanx

Written by

subedi Good Nothing to say

Written by

Abbas Is great Better than anything out there for me a 5 star.

Written by

kuswah Very Very nice, it's so good

Written by

Nurton 5 stars. Awesome app thank u!!

Written by

Chauhan Fantastic app :-) Awesome app...liked the desktop too!

Written by

Saab Its very greate

Written by

Schultz Love it Very useful since I have multiple accounts :)

Written by

Venu Super app . Easy to use.Good software quality even in low network.

Written by

Carmen Good app Improveee

Written by

Clitin I love this app and the way it work is amazing

Written by

Hrx Lovely app. I like this app

Written by

sagave Wow vvvvvvvvvv good

Written by

Shafiq Very good apps

Written by

Lian Excellent Keep it up

Written by

Maruf Love it Awesome, cheaper.

Written by

Nemat So cute Good

Written by

biju Is great and better than anything out there for me a 5 star.

Written by

surana Superb Keep it up and hack any facebook password!!!!

Written by

nugorot My brother really enjoy this program

Written by

devid Very good App Nice

Written by

afroz Its good helpful me a lot to connect my girlfriend Facebook account

Written by

Saidur Good app welcome

Written by

Liton Great App

Written by

Salvi Very good love it

Written by

Ingole Good App... deserved 5 stars... thx...

Written by

Zayed Wow guys, you just saved my life!

Written by

meena Excellent

Written by

Himanshu Very nice hacker tool

Written by

rakesh Love it 100%
Google+
Google